by Business Entertainment Show | Advice & Lifestyles of Entreprenerus
The Uber Experiment takes on one of the coolest and slickest battery power banks out there. Digipower's Re-Fuel 2-in-1 USB Wall Charger complete with a Lightning and micro usb cables and a tucked in wall plug.
I would be surprised if they didn't win a bunch of awards for product design" ~ Marcin Migdal (Host of The Uber Experiment)
The Intrepid 2-in-1 USB Wall Charger and Power Bank is arguably one of the most ingenious product designs in the power bank market.
Plug it in when you're home, and take it with you when you're on the road. The Intrepid is the full package, complete with built-in Lightning™ and micro USB cables and an AC plug for recharging. The MFI-certified, 5200mAh battery packs enough power to refuel a smartphone, action camera, or any other device two times over. Tuck the cables and the AC connector into the power bank when not in use for a neat and compact portable package. By far one of the best power packs out there, the team at Digipower & Re-Fuel have outdone themselves.
PRODUCT HIGHLIGHTS
5200mAh battery provides two full smartphone charges
Built-in foldable AC plug for recharging
Built-in micro USB and Lightning™ charging cables (MFI certified)
4 LED charge indicator and power on/off button
SPECIFICATIONS
Item Dimensions - 12.3x6.8x2.6 cm

Item Weight - 0.19kg

Battery Capacity - 3.7V - 5200mAh rechargeable lithium-ion battery

Input - AC100-240V – 50/60Hz 0.3A

Output 1 - DC5V-2.1A (Max)

Output 2/3 - DC5V – 1A

Item No. JS-5CML
Find this and more products at https://re-fuel.com/
https://www.instagram.com/refuel_digipower/
https://twitter.com/digipwr_refuel
https://www.facebook.com/digipower.refuel
---
RECOMMENDED FOR YOU
Check out the full review of DigiPower ReFuel 12-Hour Action Pro Pack Battery for GoPro Hero 4, 3+/3 unboxing and gadget video or watch the video below.
Check out the full review of Re-FUEL Pro Audio Lavalier Microphone DP-LM20GP.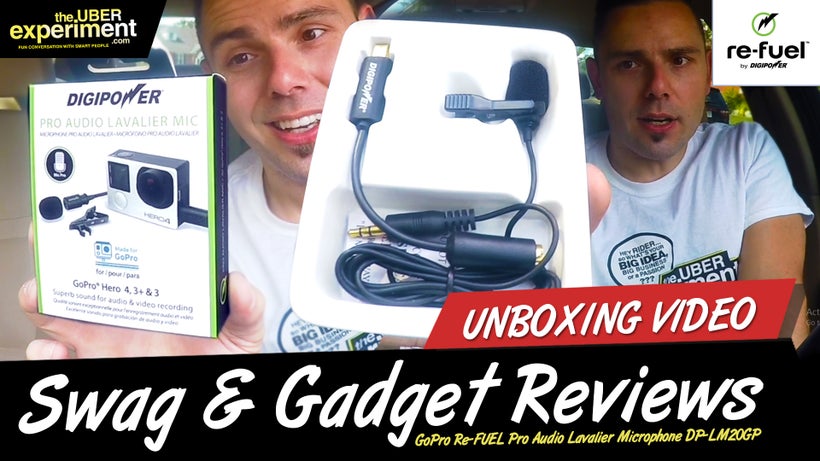 About The Uber Experiment Reality Show
The UBER Experiment is a business reality show on wheels with a dash of comedy. Think Shark Tank in a Cash Cab! Marcin Migdal is an Investor & Serial Entrepreneur posing as an Uber driver who en route engages riders in smart, fun conversations about business, ideas, career advice & passion. Riders receive swag and promote themselves and their companies to the world.
---
Thank you for stopping by! If you enjoyed Subscribe here http://bit.ly/265zerc
---
For More Episodes, Behind the Scenes, Contests & Giveaways visithttp://theuberexperiment.com
Youtube: http://youtube.com/theuberexperiment
Twitter: http://twitter.com/uberexperiment
Facebook: http://facebook.com/TheUberExperiment
Instagram: http://instagram.com/TheUberExperiment
Patreon: http://patreon.com/theuberexperiment
For business inquiries: theuberexperiment@gmail.com

#comeforaride on #theuberexperiment #realityshow and #shareyourstory
The Uber Experiment is distributed and in partnership with world's largest online newspaper for breaking news http://HuffingtonPost.com and its 7.5+ Million readers.
Go the distance with Re-Fuel by Digipower. GoPro Power, Powerbanks, Batteries, Chargers