by Business Entertainment Show | Advice & Lifestyles of Entreprenerus
It's an incredibly gloomy day and it's about to get a little sunnier. Our favorite undercover Uber driver, serial entrepreneur and The Uber Experiment host Marcin Migdal investigates life beyond the wrestling ring for one Canadian born actor, Judo champion, World Wrestling Entertainment (WWE) superstar turned entrepreneur.
Keep reading on Huffington Post.
This time, The Uber Experiment had the pleasure and opportunity of riding with Anthony Carelli, better known in the wrestling world as his stage name Santino Marella. Anthony Carelli (born March 14, 1974) is a Canadian actor, retired professional wrestler and mixed martial artist. He is best known for his time in WWE. He is a two-time WWE Intercontinental Champion, one-time WWE Tag Team Champion, one-time WWE United States Champion, and inaugural Miss Wrestlemania.
This former WWE superstar and co-founder of Battle Arts Academy is as intelligent and passionate as he is business savvy. In the wrestling world Santino (Anthony) is well known for his great sense of humor and the notorious snaked skinned sock he hides in his undergarment.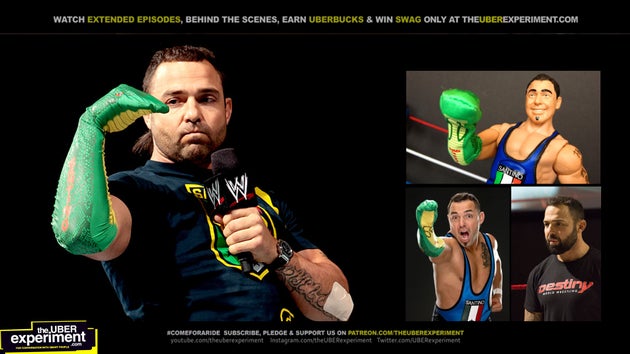 Marcin's Uber pickup originated at the home of Destiny Wrestling: The Dan Koleff Arena and Battle Arts Academy. As Anthony entered the Uber-Bimmer, he looked a lot less ready to rumble and a lot more humble. A bit peculiar but, his in-ring charisma, big smile and confidence took over the car just like it would a wrestling mat. Both Marcin and Anthony took kindly towards each other's presence; this was a mixture that could only result in great conversation and a plethora of knowledge.
Synergy only occurs when one adheres to the laws of attraction and Anthony learned this early in life when he decided to finally turn his dream of becoming a ninja and was enrolled in a Judo club by his mom.
He encountered the laws once again when he was randomly matched as a sparring partner with the son of a wrestling legend Ivan "Dan" Koleff who unbeknownst at the time would have a monumental part in Anthony finding himself and his career.
"Just that random (team up)... he chose him... and that man he pointed to (Dan Koleff's son) had a key part in my destiny and finding myself." ~ Anthony Carelli
As Marcin and Anthony converse, there's a strong sense of agreement that today's children are over protected and lack self-discipline. Bullying and cyber bullying is on the rise, yet it seems we're becoming a nation of weaklings, awarding prizes for failure and just showing up.
In the world there are winners and there are losers, covering or sugar coating this fact won't change the outcome and only diminishes the potential and self worth of people. Teaching children to be assertive, confident and empowering them with confidence through physical skill sets worked out much better for both Marcin and Anthony.
"Situations won't fix themselves and bullies won't go away because you tell your teacher. They can't protect you online or offsite." ~ Marcin Migdal
Both Marcin and Anthony have trained in Martial Arts for years which helped them become who they are and move forward with confidence in school and the real world. "In high school I was a nerd, but I'd walk around like a peacock just waiting for someone to initiate me" claimed Marcin.
Anthony's Sensei said, "Cry now and laugh at the tournament, or laugh now and then cry at the tournament," referring to the painful training sessions and discipline he endured at the Dojo while training for tournaments.
"You gotta be tough!" stated Anthony, a lesson he learned on his long road to success and one of the morals he claims is universal in any career. From athletic endeavors to entrepreneurial pursuits, it takes a tough mindset to take someone from 0 to 100.
"Cry now and laugh at the tournament, or laugh now and cry at the tournament. You have to be tough because you won't be there all the time to hold their hand." ~ Anthony Carelli
Nonetheless, the Uber Experiment wouldn't be the Ultimate Business & Entrepreneurial Reality Experiment without conversations on business, ideas and passion. Due to Anthony Carelli's experiences he was able to give a realistic and critical explanation on the elements that make a successful entrepreneur. According to Carelli, top three characteristics that define high achievers are self-discipline, common sense and confidence. A key parallel that exists in both athletes and entrepreneurs is discipline, and not one taught in schools.
"Did you think you were ever going to get in the WWE?" Marcin asked. Without hesitation Anthony responded "Yeah, I knew I was just better than everybody, I didn't JUST think I was."
It's becoming a clear pattern that all Uber Experiment guests and riders agree that an educational institution won't necessarily catapult one to wealth and success, rather the system itself becomes a crutch on one's road to creative thinking and promotes repetitive, outdated curriculum.
"Do you want the secret of ultimate success? It's the guy with the most self-discipline that wins. That's it." Anthony stated.
Carelli's entry into the World Wrestling Entertainment is contributed to a unique fighting style he acquired in Japan under mentorship of Yuki ishikawa in the style of BattlArts: A fighting style that primarily focuses on MMA and grappling, one mixed with submissions, stand-up strikes and take-downs. Very different from original wrestling, this format of fighting focuses more on ground work, something more seen in the UFC rather than traditional wrestling.
"I had to prove (to WWE) there was something unique about me. I was the first comedic wrestler with a unique fighting style" recalled Anthony.
Regardless, Carelli saw the vision his trainers and Yuki ishikawa had when he originally started the BattlArts brand. Nothing like this existed in the west, it was only a selected few who really demonstrated this style in the business. Since this was the situation, Carelli felt an obligation to migrate the brand to Canadian soil. He, along with kung fu practitioner Steven J. Wong and fitness magazine publisher Terry Frendo, opened a 15,000 square foot multi-use facility and gym in Mississauga, Ontario called 'Battle Arts Academy' in September 2013.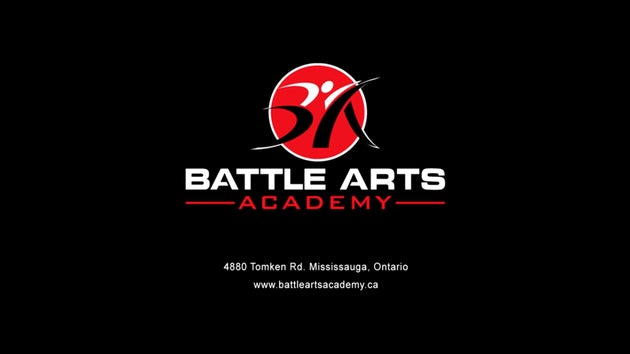 It is for general strength and conditioning, as well as for training in mixed martial arts and professional wrestling taught by the original Battlarts founder, Yuki Ishikawa. In 2015, Carelli trained athletes from Venezuela for the Panamerican Games 2015. The arena is a venue dedicated to 80's wrestler, Ivan "Dan" Koleff and the Canadian household of pro-wrestling entertainment.
"It's already becoming a fixture in the community. I just created the framework and these guys are doing all the hard work and the sweat and they're earning it themselves. I just gave them a place to earn it." said Anthony.
There's so much more to Anthony, his success and his future, including a mayoral run, but you'll just have to watch the Full Extended Episode to find out. We're thrilled to have had a chance to share his story with all of you and we challenge you to practice your self-discipline efficiently and effectively.
We hope you enjoyed another thrilling ride on The Uber Experiment with your favorite Toronto driver at the helm. UberExperiment business reality show investigates CEOs, JOEs and entrepreneurs and tell you how to make it big and reach your goals.
Till next time, UBER ON UberHeads!
Article Written by Marcin Migdal. Associate Editor Wesley Juma.
Special Thanks to: MAP Entertainment, Battle Arts Academy, Destiny Wrestling.
Follow Battle Arts Academy https://twitter.com/BattleArtsMMA
Follow Follow Battle Arts Academy https://www.instagram.com/battleartsacademybaa/
Facebook https://www.facebook.com/BattleArtsAcademy/
Battle Arts Academy Youtube http://bit.ly/29r8Ktd
---
About The Uber Experiment Reality Show
The UBER Experiment is a business reality show on wheels with a dash of comedy. Imagine Shark Tank in a Cash Cab ! A Serial Entrepreneur and Investor poses as Toronto UBER driver who en route engages in smart, fun, light hearted conversations about business, ideas, career advice & passion. Riders promote their skills and companies and even receive prizes.


---
Thanks for stopping by! If you enjoyed the videos, Subscribe here http://bit.ly/21hgNfK
More Episodes, SWAG & Best of at http://theuberexperiment.com

Twitter: http://twitter.com/uberexperiment
Facebook: http://facebook.com/TheUberExperiment
Instagram: http://instagram.com/TheUberExperiment
Patreon: http://patreon.com/theuberexperiment
For business inquiries: theuberexperiment@gmail.com