by Business Entertainment Show | Advice & Lifestyles of Entreprenerus
Have you ever felt like your life was spinning out of control?
Everyone feels anxiety and depression at some point in their lives, and when it becomes a reoccurring issue, the effect on your mind, body and soul can leave you completely debilitated in the most trivial of social situations.
On this week's episode of The Uber Experiment, everyone's favorite undercover Uber driver and serial entrepreneur, Marcin Migdal (Linkedin) goes behind the wheel once again to find out what makes Torontonians get out of bed every morning. There is never a shortage of Uber riders requesting pickups heading to their unfulfilling jobs. "It's easy to spot them" says Marcin, "they're usually prepping for their day by means of mindless entertainment on their phone".
After a string of riders unwilling to converse about business, ideas or passion, Marcin's next pickup request came from Central Mississauga; a suburb of Toronto. As Marcin approached a construction zone of a condo complex, he was careful not to damage the Uber-mobile and finally greeted our next rider Joshua Busutill. Thankfully Joshua agreed to chat on camera and Marcin was about to embark on serious topics of depression, bullying and overcoming odds by this charismatic young man. Josh was definitely a man with a plan!.
Keep reading to watch the Full Extended Episode.
"It was self empowerment and self awareness that led me here" ~ Joshua Busuttil
There is a man that's been popping up all over social media lately, his name is Joshua Busuttil. The road to Josh's success and self fulfillment however, was long and difficult. "It was self empowerment and self awareness that led me here" exclaimed Joshua. Joshua identifies himself as a Mental Health Advocate, Speaker and a Writer, he is an avid Spoken Word performer and is currently working on a poetry book. He currently also runs an empowerment website that focuses on fitness and mental advocay JoshBus.com.
In his teenage years, Joshua was diagnosed with severe Tourette Syndrome and OCD (Obsessive Compulsive Disorder). Tourette Syndrome is a neurological
disorder characterized up of motor and vocal tics. These tics include eye twitching, sniffing, arm jerking and head bobbing. Vocal tics manifest with the individual shouting inappropriate obscenities such as swearing. OCD is an anxiety disorder characterized negative unwanted thoughts which cause the sufferer great distress.
In 2005 Joshua was diagnosed with both of these conditions while entering his
first year in high school. As a result he endured insurmountable bullying which onset early stages of depression. Through his high school years Josh's tics and anxiety really got the best of him. "I felt worthless and ashamed" he told Marcin. In addition to his own suffering, Josh lost two friends in a span of a year which took a huge toll on his mental health.
In 2011, Josh decided to randomly attend a network event at The Nexus Youth Services center which coincidentally changed and saved his life. The Nexus Youth Services offer resources and support for those suffering from mental health challenges. Nexus offers educational programs and clinical counselling with group sharing and peer support activities that include fitness and arts.
Joshua worked tirelessly one-on-one with a counselor to help combat his tics and anxiety and soon embraced strategies of positive thinking, deep breathing, and self reflection.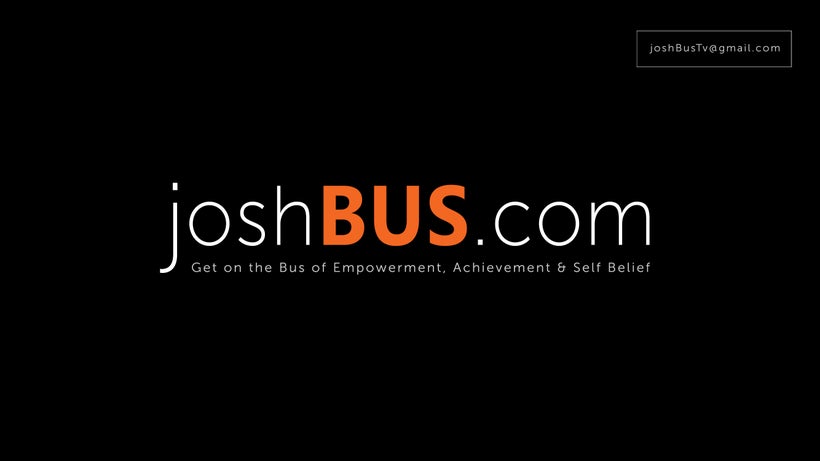 "You never know how strong you are, until being strong is the only choice you have." ~ Joshua Busuttil
Joshua also started a fruitful support relationship with a mentor - Emeka Bronson. Emeka is one of Joshua greatest friends. Emeka taught Joshua concepts of Mental Toughness, Confidence, and finding greater comfort within his own skin via the Alpha IQ curriculum.
After Joshua finished his time in counselling he got referred to become a speaker on the United Way Of Peel Speakers Bureau, he now co facilities the Art and Fitness group at Nexus.
Joshua also has partnered up with his mentor to help bring to life the interactive one on one counselling services attached to the social networking site Alpha IQ. There, Joshua will book in person or digital interactions to help others like himself attain better coping skills, achieve social mastery and establish stronger social networks.
Thus far, Joshua has been invited and conducted 15 public speaking engagements where he enthusiastically shares his personal journey in overcoming depression and finding inner peace. Josh had the opportunity of speaking at events for Lowes ,Enersource ,Telus, PLS Construction and Suncor Energy.
With attaining leaps and bounds in his own confidence, under the influence of his new peer network, Joshua has now endeavored to start his own initiative called JoshBus.com that focused on creating video sharable content focused on building mental fortitude and physical strength. Joshua strives to be the voice for the voiceless in this day in age. Get on the Bus of Empowerment ,Achievement, and Self Belief.
Article Written by Marcin Migdal. Associate Editor Joshua Busuttil.
Special Thanks to: MAP Entertainment, Joshbus.com. Re-fuel.com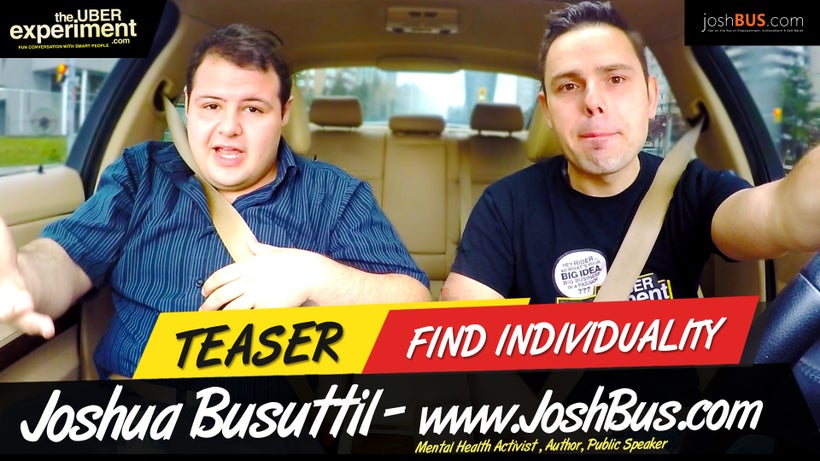 ---

---
About The Uber Experiment
The UBER Experiment is a business reality show on wheels with a dash of comedy. Imagine Shark Tank in a Cash Cab ! A Serial Entrepreneur and Investor poses as Toronto UBER driver who en route engages in smart, fun, light hearted conversations about business, ideas, career advice & passion. Riders promote their skills and companies and even receive prizes.
Thanks for stopping by! If you enjoyed the videos, Subscribe here http://bit.ly/21hgNfK
Promote your Business to Millions with our Partner http://HuffingtonPost.com
More Episodes, SWAG & Best of at http://theuberexperiment.com

Twitter: http://twitter.com/uberexperiment
Facebook: http://facebook.com/TheUberExperiment
Instagram: http://instagram.com/TheUberExperiment
Patreon: http://patreon.com/theuberexperiment
For business inquiries: theuberexperiment@gmail.com